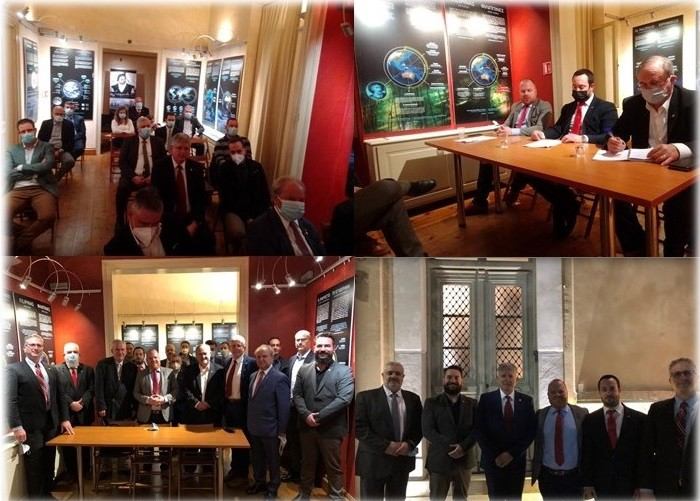 21/11/2021
AHEPA Chapter SOLON HJ-04 met in Athens at Herakleidon Museum on Sunday 7th of November. President of the Chapter George Malamos and the Event Organizer V. President Alexandros Dimas welcomed all the members and guests who had the opportunity to enjoy the Presentation and the In Depth Analysis given by chapter's most Expert Brothers about the recently signed National Defense Agreements (Greece – U.S.A, Greece – France). The presentation and analysis has been given by:
Past President HJ-04 Christos Faslis (Attorney at Law Mediator – Arbitrator / ADR Specialist).
Member & President of the Hellenic Institute of Strategic Research Lt. General G. Baltzois (ΕΛΙΣΜΕ).
Treasurer of Chapter Nick Aggelis – International Relations Analyst.
Chapter was honored with the presence of its' most Executive Members:
Dr. Harry Papasotiriou Professor of International Relations at Panteion University and Director of the Institute of International Relations, Athens, Greece. Co-author of America Since 1945.
Dr. Ioannis L. Konstantopoulos Professor of International Relations –Economic Diplomacy at the Department of International and European Studies, School of Economic, Business & International Studies, University of Piraeus, Greece.
Herakleidon Museum host of the event is officially sponsored by our Chapter's Education and Culture Committees.
Solon proceeded with a donation declaring the continuous support on the museum's cause to spread Education and the Hellenic Heritage worldwide.
Special Thanks given to Brethren donated wines & snacks for the Reception followed at the end of the event.