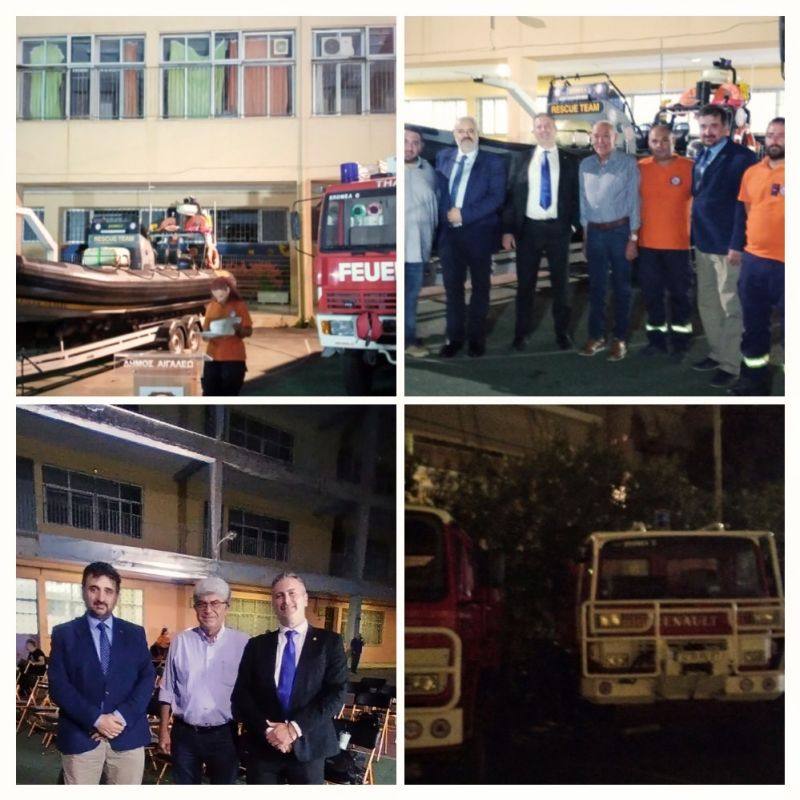 Our Chapter, AHEPA HJ-04 Solon, was honoured to be invited by the Elite Special Task Force Rescue Team of Egaleo for their consecration initiating the beginning of the year.
The President of our Chapter Alexandros Dimas along with the V. President of our Civic Responsibility Committee Agapitos Chatzielenis and the V. President of the Family Committee Anthimos Vougioukas discussed with the President of the Team, George Roumeliotis (Trainer Hellenic Air Force of Special Mission Team), about the operational capabilities of the Team and the standard needs for their equipments' maintenance.
Short discussion followed between the Local Authorities and the President of the Hellenic Aviation Industry I. Koutras who, all together, support as well the Team and their efforts for the benefit of our society.
Our Chapter agreed to embrace as well the team and support them initially by receiving a 2 days' training for the benefit of our members and our friends and family who desire to become certified on first aid situations and not only.
Stay tuned on this project – Update will follow!
Greek version:
Το Chapter μας AHEPA Solon HJ 04 Solon είχε την τιμή να είναι προσκεκλημένο στον Αγιασμό της Επίλεκτης Ομάδος Ειδικών Αποστολών.
Στα πλαίσια της επίσκεψης, το τμήμα μας δήλωσε το παρόν με την παρουσία του Προέδρου Alexandros Dimas, Αντιπροέδρου Civic Responsibility και Μέλους της Ομάδος Agapitos Chatzielenis και τον Αντιπρόεδρο Οικογένειας Anthimos Vougioukas.
Ακολούθησε συνάντηση με εκπροσώπους των τοπικών αρχών και πολιτικών προσώπων που υποστηρίζουν την εξαιρετική αυτή ομάδα όπως και με τον Πρόεδρο της ΕΑΒ καθως είναι επίσης υποστηρικτές τους.
Κατόπιν έγινε συνάντηση με τον Πρόεδρο της ομάδος Γεώργιο Ρουμελιώτη της Ελληνικής Πολεμικής Αεροπορίας (εκπαιδευτής, Κ.ΟΜ. Α.Κ Π.Σ.Ε.Α – Επίλεκτων) όπου και έγινε συζήτηση για την επιχειρησιακή ικανότητα της ομάδας και τις ανάγκες τους για την συντήρηση του εξοπλισμού.
Ο Πρόεδρος Αλέξανδρος Δήμας και ο Αντιπρόεδρος Civic Responsibility Αγαπητός Χατζηελενης δεσμεύτηκαν ότι το τμήμα μας θα αγκαλιάσει την ομάδα σε μόνιμη βάση και θα γίνει προσπάθεια να αναδείξουμε το έργο τους στην ΑΧΕΠΑ με σκοπό την επιπλέον υποστήριξη.
Κατόπιν συζητήθηκε να λάβουμε τα μέλη του HJ 04 Σολων διήμερο πρόγραμμα εκπαίδευσης πρώτων βοηθειών με σχετική βεβαίωση κατόπιν συμβολικού κόστους για την ενίσχυση της Ομάδος.
Θα ακολουθήσει σχετική ενημέρωση και είναι ευπρόσδεκτοι μέλη φίλοι και γνωστοί μας για να γίνει μια καλή προσπάθεια από μέρους μας για την υποστήριξη της ομάδος αλλά και για να εξοπλιστούμε όλοι μας με ένα πολύ σοβαρό και αχρειαστο να είναι προσόν από τους καλύτερους στην Ελλάδα.